Let's Roll!!!
Welcome to Bikers for McCain-Palin 2008, a campaign authorized coalition in support of John McCain and Sarah Palin. If anyone knows the "road to the White House" it is bikers!
On Saturday October 4th, the McCain-Palin 2008 campaign will be holding a "Bikers for McCain-Palin National Rally Day. There are so many ways you can help!


Here are links to three very large national/international biker groups.

1) We need volunteers to contact every club on ll of those lists and let them know about the National Bikers Day for McCain/Palin 2008.
2) We need volunteers to contact local restaurants with large parking areas to host our rally points.
3) We need volunteers to contact their local media about the event so that LGTR and the McCain Palin campaign can get the word out to the local media and get the exposure that this event needs and deserves.
All biker participants will get either a rMcCain-Palin flag, t-shirt or sticker. Lead organizers will get a Bikers for McCain Palin 2008 banner for their event.

CLICK HERE TO JOIN THE GROUP
If you have any questions please contact me at
executivedirector1@letsgetthisright.com
(Check The Let's Get This Right Calendar And JohnMcCain.com events For the upcoming rally!)
After being greeted by the roar of 50,000 motorcycles at the Sturgis Rally in
South Dakota, we are thrilled to announce the John McCain Campaign's latest
coalition, Bikers for McCain.
Through this coalition, we will rally riders behind Senator McCain, a man
ready to lead our nation from day one and who will always put the country's
interest before party, politics, or self.
As a veteran, John McCain has an unwavering commitment to duty, honor and country. He first swore an oath to serve his country as a young Midshipman at the United States Naval Academy. He served in uniform for twenty-two years, including five and a half years as a prisoner of war in Vietnam.

This coalition is intended to reach out to a group of people who embody the
sense of American spirit and resolve that has made our country great. As
motorcyclists, we all share in a love of our Nation and all that she has come to
represent.
We encourage you to become involved with Bikers for McCain and to show your
support for a man who has spent his lifetime passionately defending the freedoms
we hold so dear. In the coming weeks it is our goal to organize a group of
events in a family-friendly atmosphere so bikers from across the country can
ride in support of Senator McCain.
For more information and to receive invitations to our upcoming events, please follow the link below. If you are interested in leadership opportunities or have any questions, please feel free to contact us via e-mail at Bikers@JohnMcCain.com. Please click here to Join Bikers for McCain.
Please support the Senator by visiting the company store and purchasing a
"Bikers for McCain" sticker or T-shirt.
We have been asked by the McCain Campaign to help out with this coalition as much as possible.
We are utilizing all of our platforms and groups that are established throughout McCain Victory 08, McCainNOW as well as Let's Get This Right and many others to rev up for this task.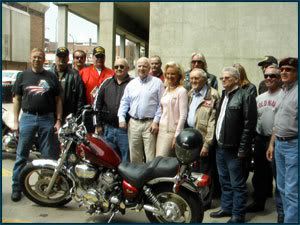 Powered by ScribeFire.